This app lets you try the effect of different electoral (voting) systems. Their task is to calculate the number of seats (typically) in the parliament from number of votes for each political party. Systems may give proportional results, or prefer larger or smaller parties.

This app was used as a tool to analyze Czech parliamentry elections 2013, see the article (in Czech language), and again in 2017 with the analysis of potential pre-election coalitions, see the article (in Czech language).

Supported Parameters
Electoral systems can be very specific in each country, so only some most common parameters can be set in the application.
Methods
These are mathematical formulas that convert votes into seats in each electoral district. Both largest remainder methods and highest averages methods are implemented.
D'Hondt modified (1.42, 2, 3, 4, ...)
Sainte-Languë modified (1.4, 3, 5, 7, ...)
Danish
Division into Electoral Districts
Having the country divided into more districts helps larger parties. With increasing number of electoral districts, the number of seats available in each of them is decreasing, and it is more difficult for smaller parties to win any of them.
You can define the electoral districts inside the app, and set election results in each of them, or set the result only on the country level, that is automatically copied into all districts.
The app contains the example of different set of electoral districts in the Czech Republic, with division into 8 districts (till 1998), 14 districts (from 2002) and hypothetical divisions into 35 and 1 district.
Formal Election Thresholds
Thresholds represent the minimum vote share a party requires to secure representation. It can be set nationwide, on a per-district basis, or be set to zero at all. For example, Spain uses the system with 3% threshold in each district. Sweden has 4% nationwide threshold, but if the party reaches 12% in one district, it will be represented even if it does not reach the 4% level nationally.

It is also possible to set the special thresholds for alliances according to the number of their members.
Total Number of Seats, Bonus for Winner
And of course, you can set the total number of seats that is to be allocated with the system. It is also possible to set a majority bonus.
Pre-election Coalitions
Pre-election simulator lets you try, what if some parties formed a coalition instead of competing alone. Does the electoral system assigns more mandates? How much more?

Calculation is done by summing the votes of cooperating parties.
Comparison
Of course, you can compare the results of selected systems with each other. The app lets you add situations into the comparison table, and automatically shows the different input parameters with the results for each party that received representation.
Proportionality Indices
The app calculates several proportionality indices, that measure the systems according to their proportionality. Their scores can be displayed in the comparison table too.

Indices implemented (see descriptions inside the app):
Loosemore-Hanby
Rose
Rae
Lijphart
Grofman
Largest Deviation
Sainte-Laguë
D'Hondt
RR, ARR, ERR, SRR
Predefined Datasets
The app comes filled with datasets for the following parliamentary elections:
Czechia: 1998, 2002, 2006, 2010, 2013, 2017
Netherlands: 2006, 2010, 2012
Slovakia: 2010, 2012

Contact
Developer: Jan Adamec
Email: rooarr@seznam.cz
Languages
The app is prepared to be translated to any language. Please contact me if you would like to translate it to yours. Thanks to all volunteers!
Currently: English, Czech
Further Work
I am open to cooperation with any educational or political institution to implement more features they would need. Please contact me.
Privacy Policy
The app does not collect any personal information nor data about app usage.
Past Work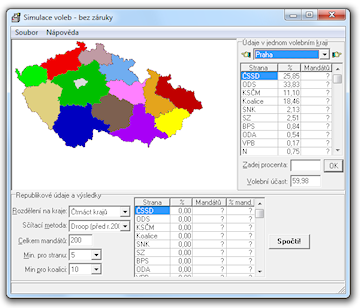 This app has 17 years of history (since 2000), when there was a discussion in my country about the changing the electoral system to be much less proportional. I wanted to try the effects of the changes so I made the Windows application, which enabled it. The current iPad app builds upon the functions developed there.

You can download the Windows version of this app here, but it does contain several minor bugs and mistakes, and setting up a new country is very difficult. And is in Czech only!

Download: volby120.zip (357 KB)