Object Library
On this page you can find new objects created by other users. The objects are organized into libraries in Room Arranger. The standard library with hundreds of objects is part of the Room Arranger setup.
You can obtain additional libraries from:
other users (you can build yours as well!)
furniture manufacturers (and other companies presenting their products)
this webpage
Web Selection
We've selected 24 popular objects from our online Object Library. These objects were created by other users.

This library includes 3D preview images and consists of two files (.RAL and .PNG). It should be installed to Room Arranger directory. The automatic installer is provided for the easy setup. Restart Room Arranger afterwards.

Download: ra-webselection.exe (138 KB) or as ZIP.
Additional Libraries
Following objects are available to download directly in Room Arranger, menu Configure - Additional libraries...
Symbols for Evacuation or Escape Plans
The symbols were made according to ISO 23601 standard, and are meant for 2D designs only - not visible in 3D.
Sample project that is using these symbols can be found on Wiki.

Symbols for Generic Plans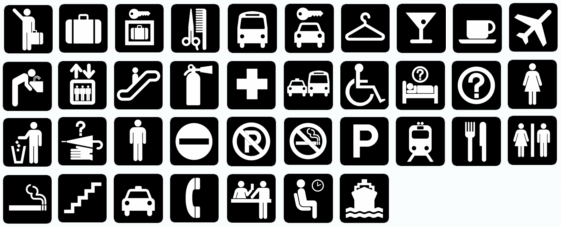 Electrical Symbols

... and more